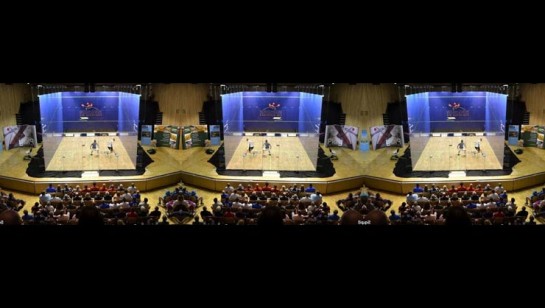 This computer aided model of 3 ASB glass courts beside each other might help to visualize the venue look for the 2 World Team Championships 2012 and 2013 in France (photo: Steve Cubbins)
In a unique development for squash, action in the 2012 Women's World Team Championship in France in November will take place on 3 new state-of-the-art all-glass show courts, which are manufactured by ASB.
The exciting initiative by the Fédération Française de Squash will ensure that, for the 1st time in the event's 33-year history, all the teams participating in the event should experience the opportunity of playing on all-glass courts.
In previous world team championships, most of the action has taken place on club courts, with only a few teams playing on a single four-glass-walled court leading up to its use for the event's final rounds.
The 2012 Women's World Team Championship will be staged in France for the 1st time – at the La Parnasse Arena and the 8-court Squash Des Costieres Club, in Nimes, from 12-17 November.
On the completion of the championship, the all-glass courts will be dismantled and re-erected in the country's 3 national training centres – one in Creteil in Paris, one in Aix-en-Provence and the 3rd in Le Mans.
"Our investment in three ASB all-glass show courts is a major initiative for the Federation – not just to use in 2 world championships in France, which we are very proud to host, but also for the long-term to use in our three national training centres," said FFS President Jacques Fontaine. "Both the Women's World Teams in Nimes, then next year the Men's World Team Championship in Mulhouse, will provide major promotional opportunities for squash in our country and worldwide.
But the fact that the courts can be used in different locations is one of the key attributes of moveable, all-glass show courts like these," Fontaine added. "Thus the initial investment in two world championships will provide a legacy which will give a major boost to the development of the sport in the future."