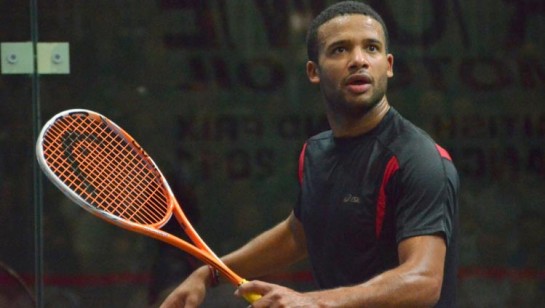 Adrian Grant (ENG) beat Karim Darwish (EGY) 12-14, 11-8, 13-11, 11-9 in the semi-final of the KL Open 2012 to take on Omar Mosaad in the final (photo: Steve Cubbins)
After surviving his 3rd successive match lasting more than an hour in the semi-finals of the KL Open in Malaysia, England's No4 seed Adrian Grant (pic) will meet 3rd-seeded Egyptian Omar Mosaad in a surprise final in Kuala Lumpur. Left-hander Grant outs Karim Darwish 12-14, 11-8, 13-11, 11-9, the Egyptian favourite who had reached the semis without dropping a game.
The 31-year-old former world No9, now ranked 12 places below Darwish, is celebrating his 29th appearance in a PSA World Tour final, where he will meet Mosaad.
The tall 24-year-old Egyptian, was also taken to 4 games in the other semi-final – where he ended the unexpected run of local star Ong Beng Hee 11-6, 11-7, 8-11, 11-7 after 52 minutes of play. The win takes the world No13 into his 2nd successive PSA Tour final – and 1 win away from his 2nd title of the month.
Final:
[4] Adrian Grant (ENG) v [3] Omar Mosaad (EGY)br>
Semi-finals:
[4] Adrian Grant (ENG) bt [1] Karim Darwish (EGY) 12-14, 11-8, 13-11, 11-9 (80m)
[3] Omar Mosaad (EGY) bt Ong Beng Hee (MAS) 11-6, 11-7, 8-11, 11-7 (52m)br>
Quarter-finals:
[1] Karim Darwish (EGY) bt [Q] Leo Au (HKG) 11-5, 11-3, 11-9 (26m)
[4] Adrian Grant (ENG) bt Max Lee (HKG) 7-11, 9-11, 11-9, 11-4, 11-6 (73m)
[3] Omar Mosaad (EGY) bt Saurav Ghosal (IND) 11-7, 11-9, 4-11, 11-7 (56m)
Ong Beng Hee (MAS) bt Mohd Nafiizwan Adnan (MAS) 12-10, 11-13, 6-11, 11-7, 11-7 (91m)br>
1st round:
[1] Karim Darwish (EGY) bt Gregoire Marche (FRA) 11-2, 11-5, 11-9 (40m)
[Q] Leo Au (HKG) bt Ryan Cuskelly (AUS) 11-8, 9-11, 8-11, 12-10, 11-3 (67m)
Max Lee (HKG) bt [Q] Adrian Waller (ENG) 11-8, 11-5, 11-5 (40m)
[4] Adrian Grant (ENG) bt Ivan Yuen (MAS) 6-11, 11-3, 11-8, 11-8 (73m)
[3] Omar Mosaad (EGY) bt Tarek Momen (EGY) 8-11, 12-10, 10-12, 11-1, 11-6 (112m)
Saurav Ghosal (IND) bt [Q] Abdullah Al Muzayen (KUW) 9-11, 11-8, 11-8, 11-6 (45m)
Ong Beng Hee (MAS) bt [Q] Matthew Karwalski (AUS) 8-0 ret.
Mohd Nafiizwan Adnan (MAS) bt [2] Mohd Azlan Iskandar (MAS) 8-11, 11-7, 7-11, 11-3, 11-2 (66m)