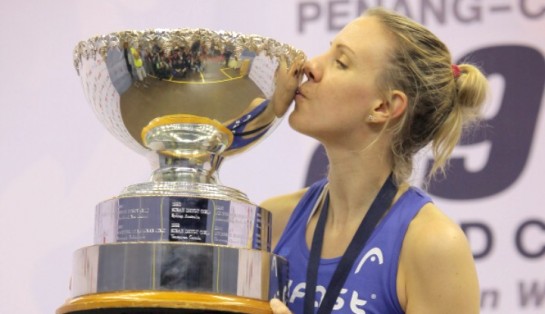 "To be honest I was really nervous," admitted the jubilant champion after the match. "I've never really felt this nervous even though I made the final of the 2012 worlds", said the new champion Massaro.
World No2 Laura Massaro fought off a courageous attack by teenage Egyptian giant-killer Nour El Sherbini in the final of the Women's World Squash Championship in Malaysia to become the 3rd Englishwoman to win the world title after Martine le Moignan (1989) und Cassie Jackman (1999).
The 30-year-old from Preston's place in squash history is also assured as the 1st Englishwoman to hold both the British Open and World Championship titles simultaneously and now 1 of the 7 – Nicol David (MAS), Rachael Grinham AUS), Sarah Fitz-Gerald (AUS), Suzanne Devoy (NZL), Michelle Martin (AUS) und Vicki Cardwell (AUS) – who di achieved this so far.
Massaro came into the climax in Penang as the strong favourite after unseeded El Sherbini stunned Malaysian superstar Nicol David, the World No1 from Penang, in the semi-finals. But the Lancashire lass had to work extra hard before overcoming a resilient El Sherbini 11-7, 9-11, 11-6, 5-11, 11-9, with the final point coming from a stroke.
Final:
[2] Laura Massaro (ENG) bt Nour El Sherbini (EGY) 11-7, 6-11, 11-9, 5-11, 11-9 (68m)
Semi-finals:
Nour El Sherbini (EGY) bt [1] Nicol David (MAS) 4-11, 11-9, 11-6, 2-11, 11-9 (61m)
[2] Laura Massaro (ENG) bt [3] Raneem El Welily (EGY) 11-9, 11-7, 6-11, 11-7 (48m)
Quarter-finals:
[1] Nicol David (MAS) bt [8] Camille Serme (FRA) 9-11, 11-5, 11-5, 6-11, 11-4 (76m)
Nour El Sherbini (EGY) bt [5] Joelle King (NZL) 11-9, 8-11, 13-11, 11-6 (52m)
[3] Raneem El Welily (EGY) bt [7] Madeline Perry (IRL) 10-12, 14-12, 11-3, 7-11, 11-7 (59m)
[2] Laura Massaro (ENG) bt [6] Low Wee Wern (MAS) 12-14, 11-6, 6-11, 13-11, 11-7 (105m)
2nd round:
[1] Nicol David (MAS) bt [Q] Heba El Torky (EGY) 11-6, 11-3, 11-4 (24m)
[8] Camille Serme (FRA) bt Nicolette Fernandes (GUY) 14-12, 11-5, 11-3 (38m)
Nour El Sherbini (EGY) bt [4] Alison Waters (ENG) 11-3, 11-9, 7-11, 11-3 (41m)
[5] Joelle King (NZL) bt [13] Omneya Abdel Kawy (EGY) 11-8, 11-4, 11-4 (36m)
[7] Madeline Perry (IRL) bt [15] Sarah-Jane Perry (ENG) 7-11, 10-12, 11-9, 11-9, 11-6 (61m)
[3] Raneem El Welily (EGY) bt [10] Dipika Pallikal (IND) 11-7, 11-7, 11-1 (26m)
[6] Low Wee Wern (MAS) bt [Q] Samantha Cornett (CAN) 11-8, 11-3, 11-9 (42m)
[2] Laura Massaro (ENG) bt [9] Jenny Duncalf (ENG) 11-9, 11-6, 11-4 (34m)
1st round:
[1] Nicol David (MAS) bt Emma Beddoes (ENG) 11-9, 11-5, 11-8 (36m)
[Q] Heba El Torky (EGY) bt [11] Annie Au (HKG) 13-11, 4-11, 11-7, 11-8 (46m)
[8] Camille Serme (FRA) bt [Q] Habiba Mohamed Ahmed Alymohmed (EGY) 11-6, 12-10, 11-7 (44m)
Nicolette Fernandes (GUY) bt [14] Rachael Grinham (AUS) 4-11, 6-11, 12-10, 11-8, 11-7 (63m)
[4] Alison Waters (ENG) bt Joshana Chinappa (IND) 11-7, 11-7, 9-11, 11-2 (32m)
Nour El Sherbini (EGY) bt [12] Kasey Brown (AUS) 12-10, 12-10, 8-11, 11-5 (43m)
[5] Joelle King (NZL) bt [Q] Tesni Evans (WAL) 11-3, 11-5, 11-8 (30m)
[13] Omneya Abdel Kawy (EGY) bt [Q] Nour El Tayeb (EGY) 9-11, 11-8, 11-7, 11-7 (44m)
[15] Sarah-Jane Perry (ENG) bt Joey Chan (HKG) 11-3, 11-9, 11-5 (26m)
[7] Madeline Perry (IRL) bt Sarah Kippax (ENG) 11-8, 13-11, 11-2 (37m)
[10] Dipika Pallikal (IND) bt [Q] Lisa Aitken (ENG) 11-2, 11-6, 11-5 (32m)
[3] Raneem El Welily (EGY) bt [Q] Salma Hany Ibrahim (EGY) 11-9, 11-4, 11-4 (25m)
[Q] Samantha Cornett (CAN) bt [16] Line Hansen (DEN) 11-5, 11-7, 11-7 (32m)
[6] Low Wee Wern (MAS) bt Donna Urquhart (AUS) 11-7, 11-6, 11-8 (32m)
[9] Jenny Duncalf (ENG) bt [Q] Megan Craig (NZL) 11-8, 11-4, 11-3 (23m)
[2] Laura Massaro (ENG) bt [WC] Vanessa Raj (MAS) 11-7, 11-4, 11-1 (25m)