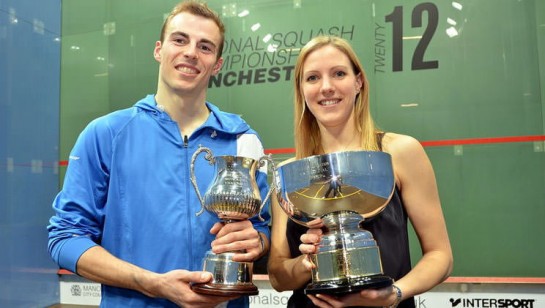 Nick Matthew and Laura Massaro are the 2012 British Nationals Champions after defeating James Willstrop and Alison Waters (photo: Steve Cubbins)
Nick Matthew (pic le) prevailed in the historic men's British National Championship final between the top two players in the world when he beat James Willstrop 11-8, 11-3, 6-11, 14-12 in an 81-minute display of dazzling world class squash in Manchester. "James put up an amazing fight, as always. People talk about his racket skills, but he's also the most determined player I've played. It was just brutal," Matthew told the packed Manchester crowd afterwards. ".
Laura Massaro (pic ri) became the 1st player to successfully defend the women's title for eight years when she beat Alison Waters 11-2, 11-9, 8-11, 11-4. Waters, a former world No3, was making a comeback after Achilles surgery and was returning to competitive action for the 1st time since the 2010 Commonwealth Games in India.
"The national title is huge for all British players – there are some big names on that trophy," said the exuberant Massaro after her 2nd successive title.