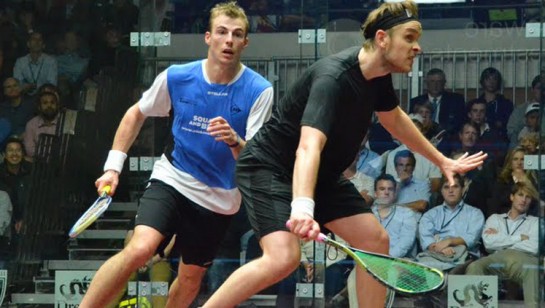 Nick Matthew (ENG) beat James Willstrop (ENG) 11-9, 11-7, 7-11, 11-7 in their last encounter at the US Open 2011 semi-finals (photo: Steve Cubbins, SquashSite)
An injury sustained in last month's PSA Kuwait Cup has forced top seed Nick Matthew to withdraw from next week's Punj Lloyd PSA Masters, the 9th and final 2011 World Series event in India. Title success in the New Delhi event a year ago led the Englishman to the top of the world rankings. "I'm obviously massively disappointed and have done everything in my power to get fit in time," said the 31-year-old Englishman, who is nursing an adductor injury. "I am going to use the extra time to come back 100% in the New Year," added Matthew.
The withdrawal could lead to Matthew losing his world No1 ranking as compatriot James Willstrop is enjoying the best form of his life – and this month moved up to 2nd place in the rankings after back-to-back victories, winning the Hong Kong Open and the Kuwait PSA Cup.
Should the 28-year-old Willstrop win the 2011 Punj Lloyd PSA Masters, he will overtake Matthew to become world No1 in January – the 1st time of his life. Willstrop is the No3 seed in Delhi, and begins his PSA Masters campaign against Swiss No1 Nicolas Mueller.
Matthew's withdrawal moves Ramy Ashour to top seed and fellow Egyptian Karim Darwish to the position of 2nd seed. Ashour, the previous world No1, is marking his return to the PSA World Tour after a hamstring injury caused his withdrawal from the World Open in November. Ashour faces Malaysia's Mohd Nafiizwan Adnan in the first round, while Darwish now takes on Australian Ryan Cuskelly.
France's Greg Gaultier moves into the 4th seed position and now lines up against local player Siddharth Suchde. Dutchman Laurens Jan Anjema becomes the new No8 seed and will now face Egypt's Mohd Ali Anwar Reda. It is also an Egyptian that takes up the vacancy in the draw provided by Matthew's departure. Omar Abdel Aziz, the world No42 from Cairo, will meet line up against Germany's Simon Rosner.
The $165,000 championship gets underway in New Delhi on Monday (12 December) and reaches its final the following Sunday.
Revised 1st round draw:
[2] Karim Darwish (EGY) v Ryan Cuskelly (AUS)
Hisham Mohamed Ashour (EGY) v Tom Richards (ENG)
Adrian Grant (ENG) v Borja Golan (ESP)
[6] Mohamed El Shorbagy (EGY) v Stephen Coppinger (RSA)
[8] Laurens Jan Anjema (NED) v Mohd Ali Anwar Reda (EGY)
Omar Mosaad (EGY) v Chris Ryder (ENG)
Mohd Azlan Iskandar (MAS) v Ong Beng Hee (MAS)
[4] Gregory Gaultier (FRA) v Siddharth Suchde (IND)
[3] James Willstrop (ENG) v Nicolas Mueller (SUI)
Alister Walker (BOT) v Alan Clyne (SCO)
Simon Rosner (GER) v Omar Abdel Aziz (EGY)
[7] Daryl Selby (ENG) v Mohammed Abbas (EGY)
[5] Peter Barker (ENG) v Olli Tuominen (FIN)
Julian Illingworth (USA) v Saurav Ghosal (IND)
Cameron Pilley (AUS) v Jonathan Kemp (ENG)
[1] Ramy Ashour (EGY) v Mohd Nafiizwan Adnan (MAS)