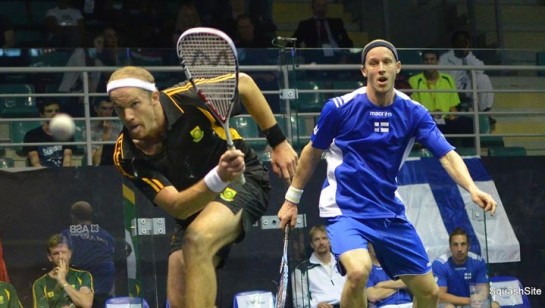 "It's really difficult when you're out of the main group and we had to beat those Finnish guys - they don't just give you the games", South Africa coach Richard Castle concluded
South Africa and Germany reclaimed their status as World top 8 nations after storming through the last 16 round of the Men's World Team Squash Championship in Mulhouse.
Seventh seeds South Africa, who finished in an all-time low 13th position in the previous championship in 2011, despatched Finland, the ninth seeds and one-time bronze medallists, 2/0. "It means so much for us to get into the top eight," said South Africa coach Richard Castle.
Buoyed by local support in the 2011 event in Paderborn, Germany emphatically exceeded their 16th seeding by finishing in ninth place – then moved up to eighth when Italy nation was disqualified. Two years on, the focussed 6th seeds today defeated New Zealand 2/1. World No12 Simon Rosner led the assault, beating Campbell Grayson 13-11, 2-0 (ret.) – and team-mate Jens Schoor clinched victory by outplaying 23-year-old Kiwi Evan Williams 11-5, 11-5, 11-5. "It's unbelievable," said German manager Oliver Pettke of his team's success. "I cannot find words to express my feelings.
Quarter-final line-up:
[1] EGYPT v [8] INDIA
[4] AUSTRALIA v [6] GERMANY
[3] FRANCE v [5] MALAYSIA
[2] ENGLAND v [7] SOUTH AFRICA
All results at the official event website: http://worldmensquash-mulhouse2013.fr/