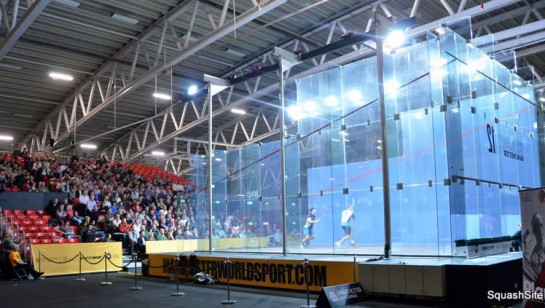 This year's British Nationals men's final will feature the world top two players: James Wilstrop and Nick Matthew (photo: Steve Cubbins)
A hard-fought victory (11-8, 11-3, 14-12 ) by World No1 Nick Matthew over defending champion Daryl Selby in the semi-finals of the British National Championships in Manchester has set up the 1st ever domestic final between the top two players in the world. 3-time champion Matthew will face James Willstrop, the World No2 who beat England team-mate Adrian Grant 11-9, 11-6, 11-9.
Defending champion Laura Massaro will face Alison Waters in the women's final. In the 1st semi, World No3 Massaro saw off Irish rival Madeline Perry 11-4, 11-9, 11-3. Later Waters romped to an 11-4, 11-2, 11-6 victory Lauren Briggs.
Men's final: [1] James Willstrop (Yorks) bt v [2] Nick Matthew (Yorks)
Women's final: [3] Laura Massaro (Lancs) v [8] Alison Waters (Middx).