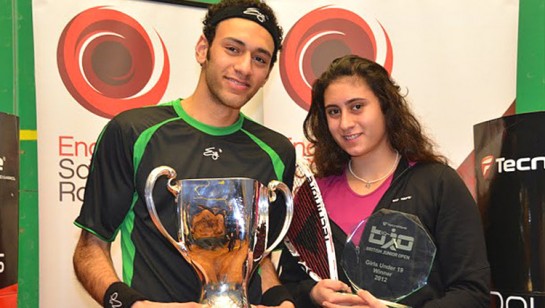 Marwan El Shorbagy and Nour El Sherbini at the prize giving of the British Junior Open 2012 in Sheffield
Whilst Egyptian Marwan El Shorbagy (pic le) retains his men's number one ranking, England's Emily Whitlock makes her debut at the top of the women's list in the new January WSF World Junior Rankings. El Shorbagy, aged 18 and from Alexandria, is the reigning World Junior and British Junior Open Champion.
India's 17-year-old Mahesh Mangaonkar move up to second place – pushing Egypt's Mohamed Abouelghar, runner-up to El Shorbagy in Belgium, down to No3. Dutchman Tom de Mulder bursts into the rankings for the 1st time at No4 and Mexican Mario Yanez also makes his first appearance in the list at No5.
Emily Whitlock, the 17-year-old British national junior champion, is rewarded for her focus and success on the world junior circuit by taking over the top spot – succeeding Egypt's world junior champion Nour El Tayeb. And India's Anaka Alankamony also moved up in the list to take over 2nd place. American Maria Elena Ubina, 16-year-old winner of the US Junior Open, leaps up to fifth place, below Egyptians Nour El Tayeb and Nour El Sherbini, at 3 and 4, respectively.
The WSF World Junior Circuit Rankings – which are based on the under 19 age grouping and were launched last October – will be issued quarterly, based on results achieved in national junior opens, regional championships and WSF World Junior Individual Championships. In the coming months, as players compete in more events (there are sixteen already on the circuit in the first half of the year), players will have more results with which to find a level.
Men's top 10:
1 (1) Marwan El Shorbagy (Egypt) 66.67
2 (3) Mahesh Mangaonkar (India) 55.00
3 (2) Mohamed Abouelghar (Egypt) 46.67
4 (-) Tom de Mulder (Belgium) 44.33
5 (-) Mario Yanez (Mexico) 41.67
6 (-) Ahmed Abdel Khalek (Egypt) 41.67
7 (11) Declan James (England) 38.33
8 (7) Tatu Knuutila (Finland) 34.33
9 (15) Tom Ford (England) 34.33
10 (20) Tyler Osborne (Canada) 32.67
Women's top 10:
1 (5=) Emily Whitlock (England) 76.67
2 (4) Anaka Alankamony (India) 73.33
3 (1) Nour El Tayeb (Egypt) 66.67
4 (2) Nour El Sherbini (Egypt) 46.67
5 (29) Maria Elena Ubina (USA) 45.00
6 (3) Lee Ka Yi (Hong Kong China) 42.67
7 (29) Caroline Sayegh (Germany) 32.67
8 (12) Aparajitha Balamurukan (India) 29.33
9 (-) Julia Lecoq (France) 29.33
10 (5=) Amanda Sobhy (USA) 26.67